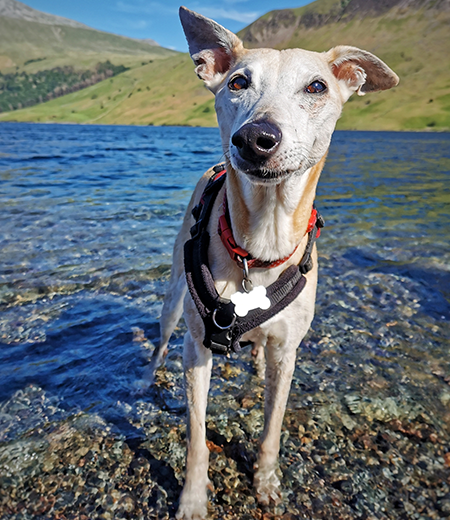 Hoddy - August 2009
The oldest, Hoddy is a small lurcher - a cross between a whippet and a staffordshire bull terrier. Any visitors to the office will usually be greeted by her first, as she considers it her life mission to make sure nothing happens without her approval!

In her younger years she was an agility superstar, and even competed at Crufts twice, but has now retired from that to focus on alternative pursuits - mostly the pursuit of snacks! She really enjoys taking part in photoshoots for the product images on the website.

In June 2022 she qualified for the Scruffts - a nationwide competition celebrating crossbreed dogs - semi final, to be held in the main arena at Crufts 2023!
Try her favourite!
Sausage Rolls
Lance - July 2012
Lance the whippet doesn't often come into the office, as he much prefers to spend his days lounging around at home - like any self respecting whippet he quite often isn't even out of bed until past 9am!

When he is awake, he works very hard on training his humans - and has taught us to give him a fish skin cube at lunchtime, then a gourmet stick (his current preferred flavour is beef and vegetable) every evening at 9pm. Any treats have to be carefully locked away - on the one occasion where they weren't he attempted to eat his way through 3kg of chicken and cheese sticks in a single sitting! Despite the ensuing vet trip, and a couple of days feeling a bit sorry for himself, we have no doubt he would do it again if given the chance!
Try his favourite!
Pigs Ears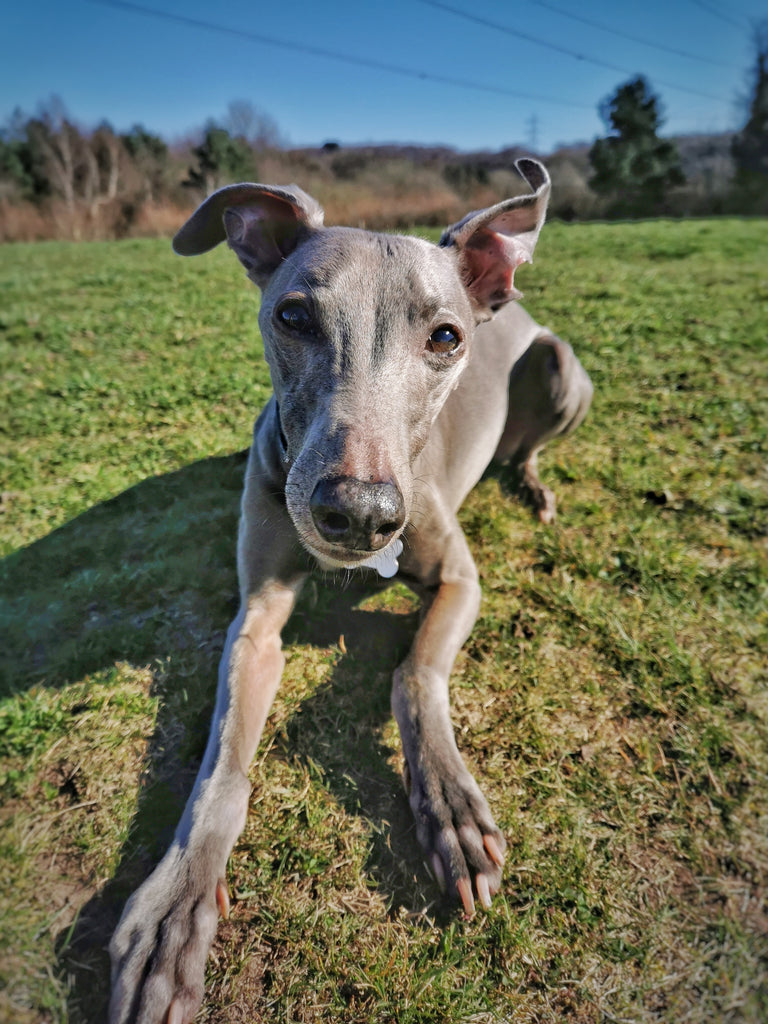 Millie - July 2016
Part whippet, part cat - Millie spends her days in the office lounging on top of the desk - next to the radiator, and the window for some optimal sunbathing! Similar to Lance, she likes to lead a leisurely life, but can, on occasion, be encouraged to zoom around an agility course. Quite often this is in her own order, but with the help of some duck pate - her favourite variety - she occasionally does win!

Millie was a rescue dog from Snowdonia Animal Sanctuary - and whilst she didn't have the best start in life, she is more than making up for it now!
Try her favourite!
Gourmet Pate
Zym - November 2018
Zym is the smallest office canine - an Australian Silky Terrier - and is quite often found by my feet. Although he is little, he is so incredibly versatile. Whilst we mainly compete in agility, he loves canicross and heelwork to music (dog dancing). He's also done some training in flyball and obedience. He is the cover star of our health benefits guide and has been a model for Aldi!

When not in the office, Zym enjoys making sure his humans get plenty of exercise - and, like all terriers, barking!
Try his favourite!
Cut Trachea